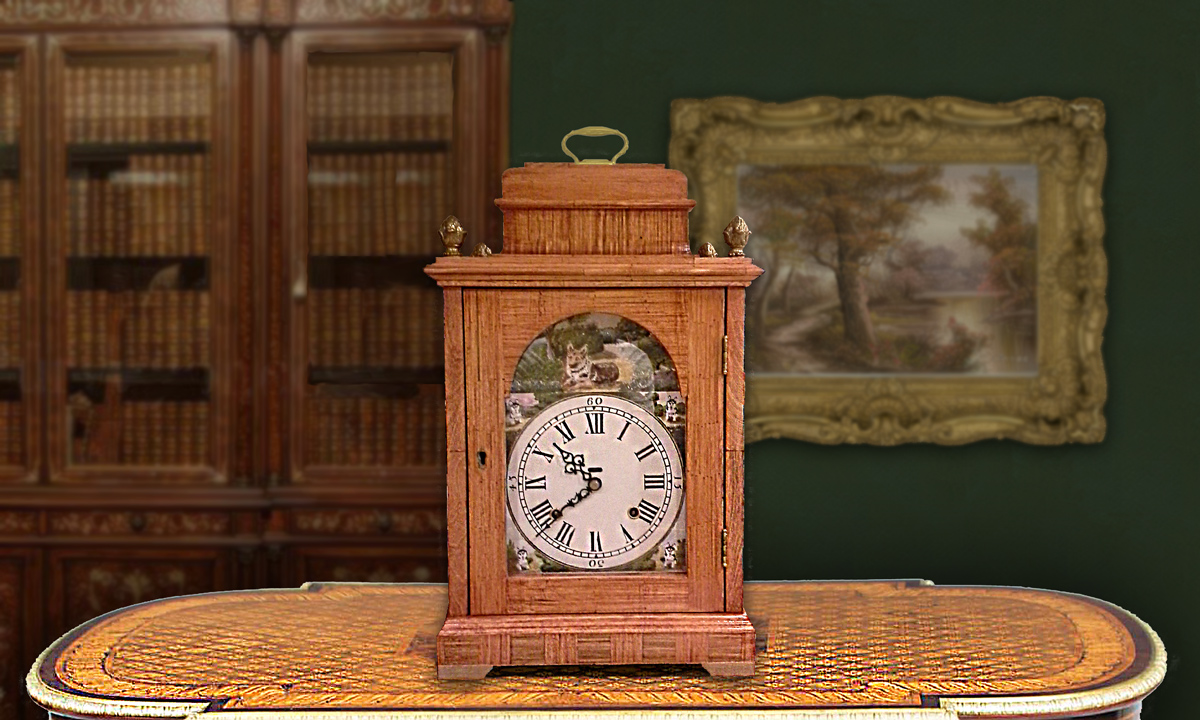 Build a Popsicle Stick Clock in the Style of an Old English Georgian Bracket Clock!
Introduction
It all started in 2010 with an eBay search for a nice wall clock.  I wanted a clock decorated with animals, preferably wolves or dogs, in color, but with a traditional look.  Almost immediately, I found the perfect clock (well, almost), new in box. The only problem is that these clocks are almost always powered by battery quartz movements and rarely (if ever) mechanical (spring wind, weight driven, or synchronous AC motor).  And I absolutely HATE battery quartz movements. Then, an idea came to me: why not build a clock?
Searching around, I came across an E. Ingraham spring wind clock movement dated 1868 (bought off eBay earlier for a now-abandoned project idea) and a bag of Popsicle sticks I had been saving since I was a kid (some were used but most were really purchased as "craft sticks") and other junk materials.  I had collected craft/Popsicle sticks with the intention of using it in "high end" quality Popsicle stick crafts – is there even such a thing???  Now would be the perfect time to take the challenge to find out…
The Design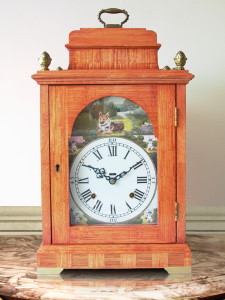 The next step was to come up with a design.  The clock should have a traditional look, be able to use as much as possible, the material I already have on hand, and I should be able to paint a picture on it somewhere.  I found many sites on how to build a clock but they were all designed for battery movements.  Woodworking plans that were available were mostly for purchase, and examples of Popsicle stick clocks and other Popsicle stick crafts, while fun and creative, were either too playful or childish in appearance.  Many of those projects published online do look nice but they just weren't what I was looking for.
After researching various clock designs, one style I really liked was the Old English Georgian bracket clock with a bell top (or inverted bell top) and a break arch front window.  They are called "bracket clocks" because they were designed to be placed on wall-mounted bracket shelves, although a majority were actually placed on mantels or tabletops.  This beautiful design dates back to the 18th century (1700's) and production continued into the turn of the 19th century (early 1800's).  Georgian bracket clocks were often made of mahogany veneered on pine or oak; others were ebonized or lacquered.  Many were built in London by various clock-makers (those of a modified design built outside London are called "provincial" bracket clocks), and bracket clocks were always expensive when new (more expensive than long-case [grandfather] clocks).  This is the design (English Georgian bell top) I have decided to use for my Popsicle stick clock.
Table of Contents